Gosch Kennels Stud Service Information
Gosch's Pronto, born 8/2/09
Quick Stats
Color: Brown and White
Height: 56.5 cm, Weight: 62 lbs.
PennHIP: Left 0.31, Right 0.25
NAVHDA NA: 110 Prize I, Nose: 4; Search: 4; Water: 4;
Pointing: 4; Tracking: 4; Desire: 4; Cooperation: 3
Sire: Hunting Hills Gunnar
Dam: Davis' Abbey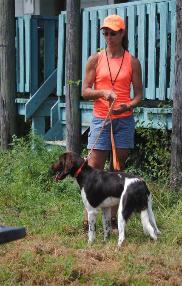 Phone Number: 425-241-7788
Email: jgmizenko@hotmail.com
Quick Stats
Color: Roan
Height: 57 cm, Weight: 54 lbs.
OFA: SMU-198G24M-VPI (Good)
NAVHDA NA: 101 Prize II, Nose: 4; Search: 4; Water: 3;
Pointing: 4; Tracking: 3; Desire: 3; Cooperation: 4
Sire: Robingun's All About Lucky
Dam: Gosch's Nicolett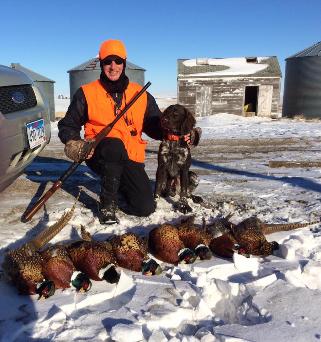 Very limited quantities. Please contact us for more information.
Jeiko vom Jakobsbrunnen (Fritz): First NAVHDA UT Prize I, SMCNA Dog of the Decade,
Sire of our Whip and Buddy and several UT Prize I dogs and the first Versatile Champion
Small Munsterlander. For more information on Fritz please go to his page.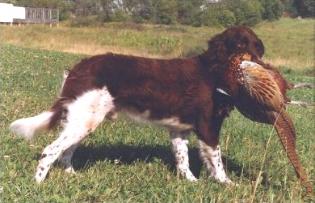 Ajac v Ammerell (Barney): Son of Fritz, NAVHDA NA 112 Prize I, Sire of 5 litters with
good NAVHDA results. This was the sire of Gosch Kennels "A" litter back in 1996. For
more information on Barney please go to Barney's Page.
Brendan Boy v Omeara/Sengpiel: A male from the most decorated line in North America.
Buddy's litter was both a Natural Ability and Utility NAVHDA Breeders Award Litter.
Available via frozen semen. More information on Buddy can be found at Buddy's Page.
Please contact us for more information.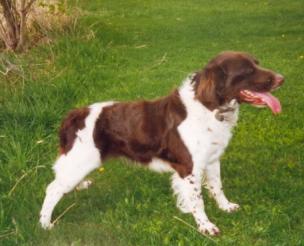 1. All females must be OFA or PennHip Certified, PennHIP is preferred.
2. All females must be tested for brucellosis prior to breeding.
3. All females must be NAVHDA or equivalent tested.
4. All females must have a normal temperament and not be gun shy.
5. All shots and vaccinations must be current.
6. If a dog meets all these minimum requirements that does not automatically mean we will breed your dog. We will make that determination after we have talked to you about your dog.